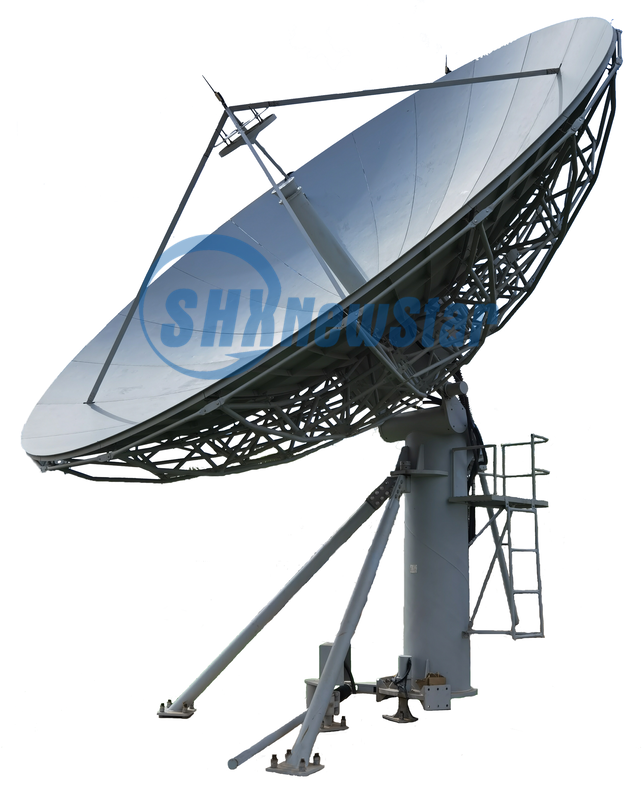 7.3m Rx/Tx Satellite Communication Antenna
Factory Price, OEM, ODM
Antenna diameter: 7.3 m
Antenna type: Ring focus
Antenna mount type: EL over AZ
RMS: ≤0.5 mm
Antenna weight(N.W): 3850(motorized)
Antenna travel range:
AZ:±70°( truss structure ); ±180°( rotary platform structure ) EL:0°~90° Pol:±90°
Antenna drive mode: Motorized
Rotation speed: Single speed/ dual speed/ variable speed
Description
The superior performance of Shaanxi Newstar 7.3 meter earth station antenna makes it an excellent choice for high- density data, voice, communications networks and broadcast applications. The dual reflector ring focus system and accurate manufacturing techniques provide exceptionally high gain and pattern characteristics. The 7.3m Rx/Tx antenna 2-port or 4-port in C/Ku band is avaiable.
7.3m Rx/Tx satellite communication antenna characteristics
Meets or exceeds CCIR 580 and INTELSAT requirements
Ring focus designed;
High gain, Low sidelobe, High G/T rate;
Hot-dip zinc processed Antenna mount, with strong corrosion resistant ability;
Dual linear/circular polarization optional;
2-port and 4-port linear/ circular optional;
Reasonable structure and easy operation.
7.3m Rx/Tx satellite communication antenna standard configuration
Main reflector, subreflector, subreflector support, back support frame, kingpost, feed, antenna serve control system, foundation drawing, foundation template and standard component.
7.3mRx/Tx satellite communication antenna optional parts
BUC, LNB, Modem, spectrum analyzer, de-icing equipment, BUC fix bracket, motorized polarization, 4-port feed, lightning protection device, waveguide inflator, installation tools, cable and connector.
Performance specifications
Mechanical specifications
Environment specifications
For more production information and free quotes, please contact us immediately ! ! !
Share your thoughts
Showing

6

of

0

reviews
Consult an antenna expert now to

purchase

or

customize

your antenna.
Contact Us Now