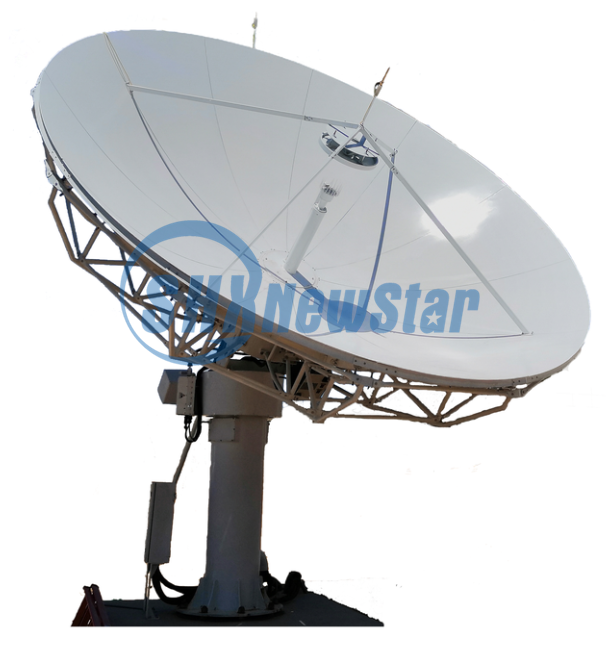 4.5m Full Motion Uplink Satellite Communication Antenna
Factory Price, OEM, ODM
Antenna aperture: 4.5m
Reflector type: Ring focus
Surface accuracy (RMS): ≤0.5 mm
Panel QTY: 12 pcs
Panel material: Aluminum
Panel Surface treatment: Compressed by aluminum, degreased and based with yellow zinc paint and finished with antirust white paint
Steel parts surface treatment: Primer base + hot sprayed paint+ anti-rust finish paint
Azimuth travel: 0°~360°
Elevation travel: 5°~90°
Polarization travel: ±90°
Drive mode: AZ/EL/Pol motorized or manual available
Mount type: El over Az, single pole
Description
4.5m full motion uplink antenna characteristics:
✔ Meets or exceeds CCIR 580 and INTELSAT requirements;
✔ Meets INTELSAT, ASIASAT, CHINASAT network access requirement;
✔ Ring focus designed;
✔ High gain, low sidelobe, High G/T rate;
✔ Hot-dip zinc processed Antenna mount, with strong corrosion resistant ability;
✔ 2-port or 4-port optional;
✔ Reasonable structure and easy operation.
4.5m full motion uplink antenna standard configuration:
Main reflector, subreflector, subreflector support, back support frame, kingpost, feed, solid wretch, foundation kit and standard component.
4.5m full motion uplink antenna optional parts:
BUC, LNB, Modem, spectrum analyzer, moving foundation, de-icing equipment, BUC fix bracket, servo control system, motorized polarization, 4-port feed, lightning protection device, installation tools, cable and connector.
4.5m full motion uplink antenna 1
4.5m full motion uplink antenna 2
4.5m full motion uplink antenna 3

Performance specification
Environmental specification
5.0

/5 Showing

6

of

3

reviews

-
Dec 15.2021
It is very easy to install and configure. Great material very durable and durable construction.

-
Nov 06.2021
This is a great product, we like it!

-
Apr 15.2021
This satellite dish is excellent. I would highly recommend this product to anyone looking for an earth station of this size.
Consult an antenna expert now to

purchase

or

customize

your antenna.
Contact Us Now