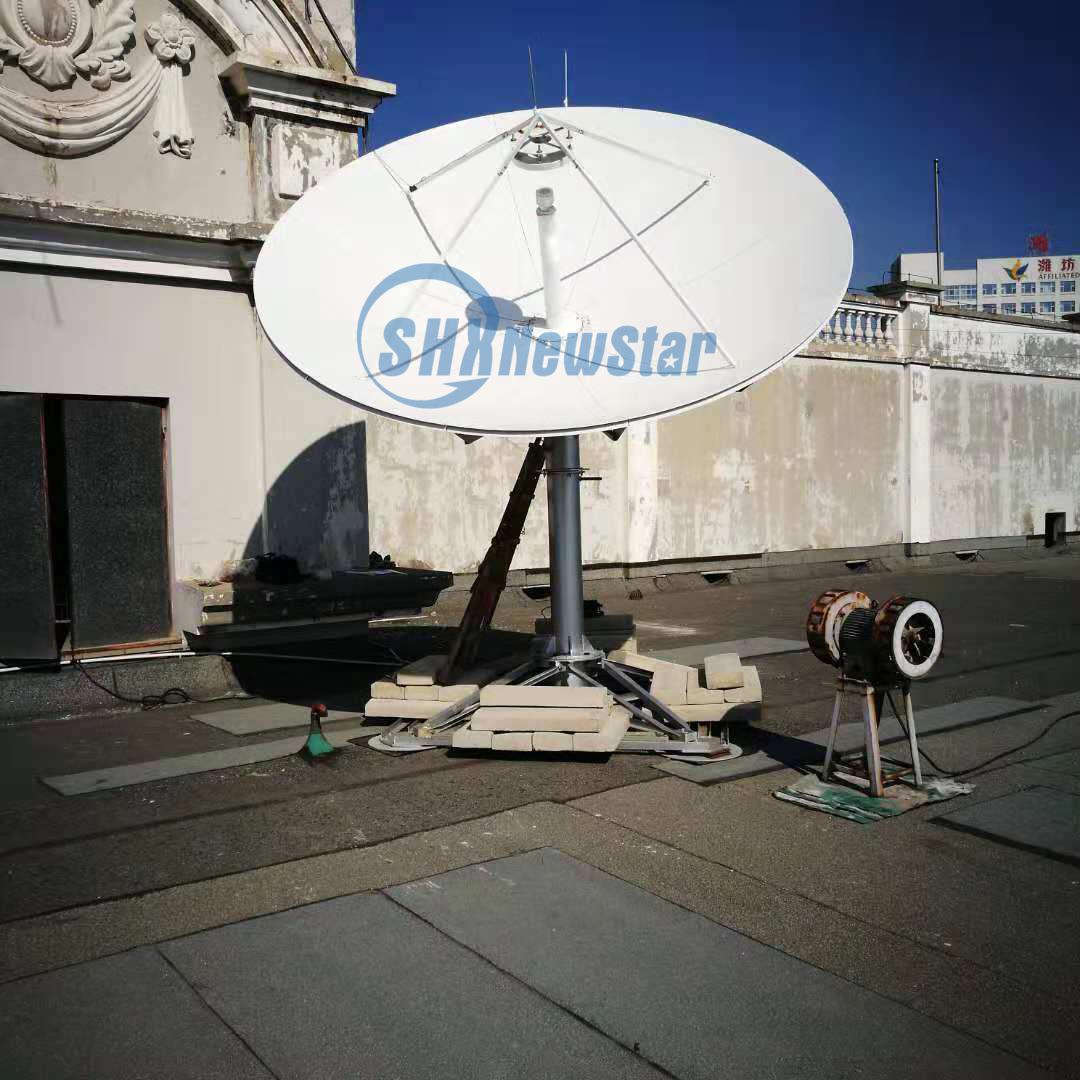 3.7m C/ku Band Manual Earth Station Antenna
Factory Price, OEM, ODM
Antenna aperture: 3.7m
Reflector type: Ring focus
Surface accuracy (RMS): ≤0.5 mm
Panel QTY: 12 pcs
Panel material: Aluminum
Panel Surface treatment: Compressed by aluminum, degreased and based with yellow zinc paint and finished with antirust white paint
Steel parts surface treatment: Primer base + hot sprayed paint+ anti-rust finish paint
Azimuth travel:0°~360°
Elevation travel: 5°~90°
Polarization travel: ±90°
Drive mode: AZ/EL/Pol motorized or manual available
Mount type: El over Az, single pole
Description
The 3.7m antenna is the satellite communication antenna developed and produced by Shaanxi Newstar Communications Equipment Co., Ltd. As the ring focus type with high performance, this antenna adopts computer optimized design and advanced manufacturing processes with good features such as high gain, low sidelobe, high identification rate of polarization and small VSWR.
3.7m Rx/Tx antenna characteristics:
✔ Meets or exceeds CCIR 580 and INTELSAT requirements;
✔ Meets INTELSAT, ASIASAT, CHINASAT network access requirement;
✔ Ring focus designed;
✔ High gain, low sidelobe, High G/T rate;
✔ Hot-dip zinc processed Antenna mount, with strong corrosion resistant ability;
✔ 2-port or 4-port optional;
✔ Reasonable structure and easy operation.
3.7m Rx/Tx antenna standard configuration:
Main reflector, subreflector, subreflector support, back support frame, kingpost, feed, solid wretch, foundation kit and standard component.
3.7m Rx/Tx antenna optional parts:
BUC, LNB, Modem, spectrum analyzer, moving foundation, de-icing equipment, BUC fix bracket, servo control system, motorized polarization, 4-port feed, lightning protection device, installation tools, cable and connector.
Performance specification
Environmental specification
For more product information and free quotes, please contact us immediately !!!
5.0

/5 Showing

6

of

1

reviews

Mathy - Ghana
Jan 07.2023
It good dish for network, you are service is satisfying.
Consult an antenna expert now to

purchase

or

customize

your antenna.
Contact Us Now