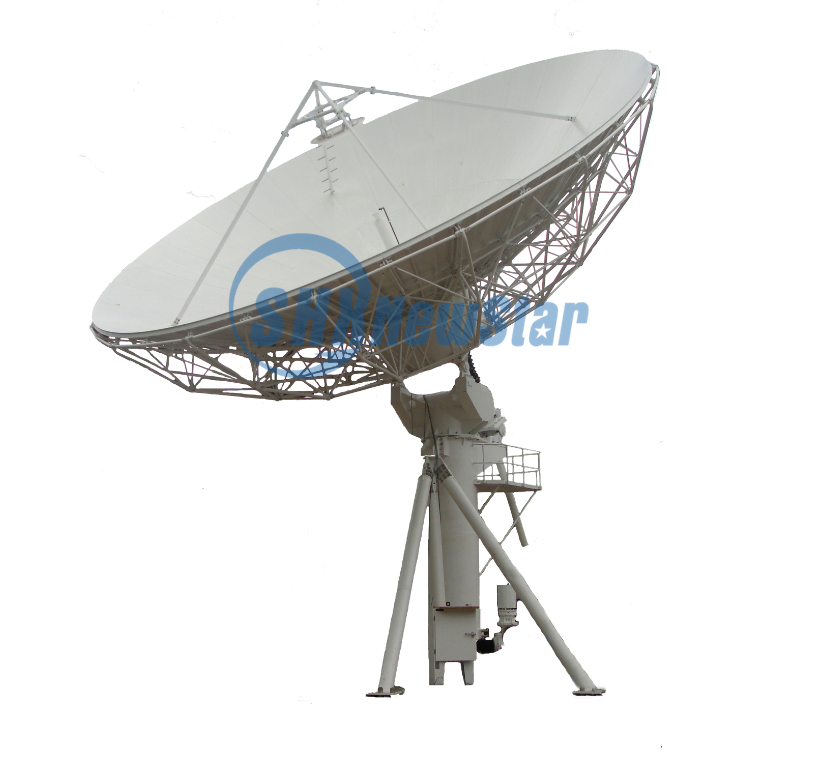 11m Earth Station Satellite Communication Antenna
Factory Price, OEM, ODM
Antenna diameter: 11.0 m
Antenna type: Cassergrain
Antenna mount type: EL over AZ
RMS: ≤0.5 mm
Antenna weight(N.W): 11.5 Tons
Antenna travel range:
AZ: ±65° ( truss structure ), ±180° ( rotary platform structure ) EL: 0°~90° Pol: ±90°
Antenna drive mode: Motorized
Rotation speed: Single speed/ dual speed/ variable speed
Description
Shaanxi Newstar 11m antenna is with high gain, low noise temperature, high antenna efficiency features. The large center hub provides spacious accommodation for equipment mounting, and the reflector is supported by a galvanized elevation over azimuth kingpost pedestal that provides the required stiffness for pointing and tracking accuracy.
11m earth station satellite communication antenna characteristics
Meets or exceeds CCIR 580 and INTELSAT requirements
Cassegrain designed;
High gain, Low sidelobe, High G/T rate;
Hot-dip zinc processed Antenna mount, with strong corrosion resistant ability;
Dual linear/circular polarization optional;
2-port and 4-port linear/ circular optional;
Reasonable structure and superior performance.
11m earth station satellite communication antenna standard configuration
Main reflector, subreflector, subreflector support, back support frame, kingpost, feed, antenna serve control system, foundation drawing, foundation template and standard component.
11m earth station satellite communication antenna optionalparts
BUC
,
LNB
, Modem, spectrum analyzer, de-icing equipment, BUC fix bracket, motorized polarization, 4-port feed, lightning protection device, waveguide inflator, installation tools, cable and connector.
11m vsat antenna side view
11m vsat antenna front view
11m vsat antenna rear view
Machenical specifications
Environment specifications
For more product information and free quotes, please contact us immediately !!!
Share your thoughts
Showing

6

of

0

reviews
Consult an antenna expert now to

purchase

or

customize

your antenna.
Contact Us Now