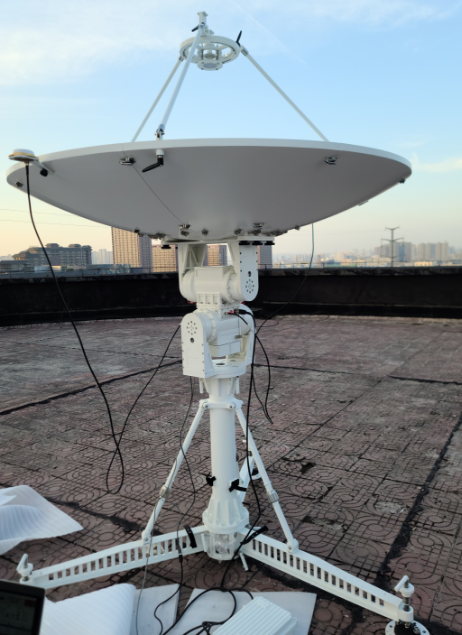 1.8m X-Y Automatic Flyaway Antenna
Antenna diameter: 0.75m

Antenna type: offset

Material: Carbon fiber

Antenna weight: Net weight ≤8.8Kg (without BUC, LNB,package) , gross: weight≤16.8kg

Antenna package: Aviation package box 670×470×265

Antenna travel range AZ EL Pol: ±60° 5°~90° ±90°

Antenna drive mode: Manual
Description
The portable series of antennas can meet the application in various scenarios such as remote sensing measurement and control, emergency communication command, news gathering, etc. The antenna adopts a modular design, which is convenient for fighters to carry and can be quickly erected and deployed for business under complex working conditions. The turntable is in the form of an X-Y frame, and the final stage of the transmission is equipped with an absolute encoder. With precise servo control technology, it can track synchronous orbit satellites, polar orbit satellites, UAVs and carry out automatic alighment under various harsh conditions. The antenna system covers L, S, C, X, Ku, Ka and 1-40GHz frequency bands, which can be used for data transmission or electromagnetic signal reconnaissance.
1) The antenna structure uses a large number of carbon fiber composite materials, with stable performance, high strength and light weight.
2) The antenna is available in two forms, prime focus and ring focus, and has the advantages of low side lobes and high gain.
3) The antenna system can be equipped with positioning, orientation system, position memory unit, drive unit, automatic protection unit and other equipment.
4) The servo adopts a high-performance main control board as the control unit, which has high-performance real-time response capability, and can complete target pointing and tracking data processing.
5) Provide automatic and manual control modes to deal with emergency operations in various environments.
Share your thoughts
Showing

6

of

0

reviews
Consult an antenna expert now to

purchase

or

customize

your antenna.
Contact Us Now