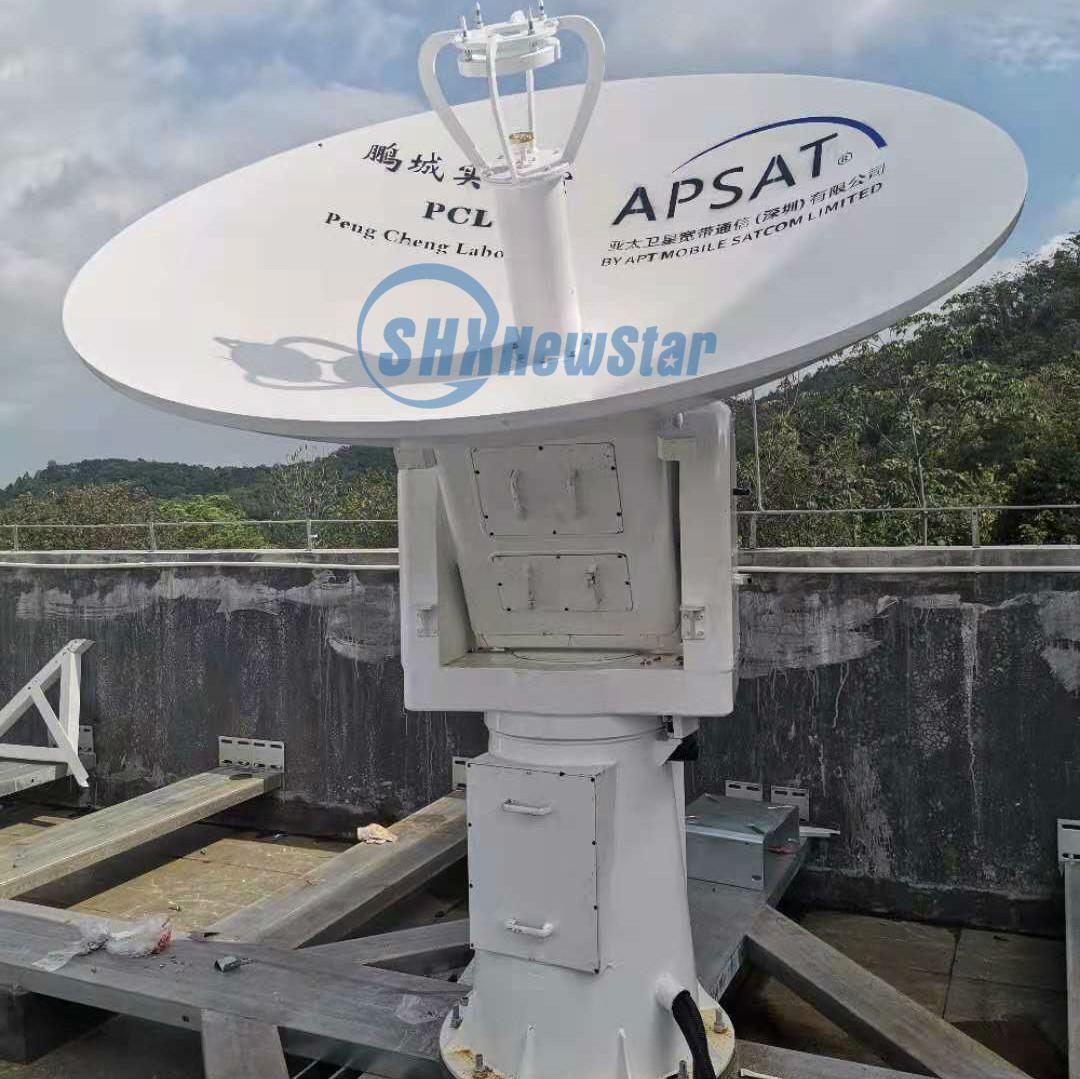 1.8m QV satellite communication antenna
Factory Price, OEM, ODM
Antenna diameter: 1.8m;

Mount type: AZ/EL;

Travel range: AZ continuous 0~180°, EL continuous 5°~90°;

Main reflector R.M.S: better than 0.18mm (RMS);

Subreflector R.M.S: better than 0.1mm (RMS)
Description
a. Receive satellite downlink Q band signal;
b. Transmit satellite V band signal;
c. Manual control and step tracking function;
d. Have complete and reliable security measures and work instruction measures;
e. With parameter configuration, equipment status collection, and automatic reporting functions;
f. With local control and remote control capabilities
Provide test and measurement interface for an antenna RF system.
a. Working frequency:
Tx: 46~51.5GHz
Rx: 37GHz~42.5GHz
b. Polarization mode: Rx is LHCP and Tx is RHCP.
c. Withstand power: each transmitting port is not less than 100W continuous wave.
d. Antenna noise temperature (LNA input port, ambient temperature 23℃, clear sky, breeze, elevation angle≥30 degrees): ≤150K
e. Sidelobes characteristics:
First sidelobe≤-14dB (AZ)
≤-14dB (EL)
f. Far sideobes conform to ITU-RS.580-4;
g. Antenna gain:
Tx: G≥55.94+20log (f(GHz)/48)dBi (feed input port)
Rx: G≥54.36+20log (f(GHz)/40)dBi (LNA input port)
h. Axial ratio: ≤1.5dB
i. Port isolation: Rx-Tx ≥ 85dB in Rx band, Rx-Tx ≥ 85dB in Tx band;
j. VSWR input/output: ≤1.5: 1.
k. Interface:
Tx: BJ500 (Feed input port with sealing ring)
Rx: BJ400 (Feed output port with sealing ring)
a. Antenna diameter: 1.8m;
b. Mount type: AZ/EL;
c. Travel range: AZ continuous 0~180°, EL continuous 5°~90°;
d. Main reflector R.M.S: better than 0.18mm (RMS);
Subreflector R.M.S: better than 0.1mm (RMS)
Environmental Adaptability
Outdoor: working temperature: -30~+55℃; storage temperature:-55~+75℃;
Indoor:working temperature:0°C~+40°C;storage temperature:- 50°C~+70°C;
b. Humidity requirement: relative humidity of outdoor equipment≤99%(homeothermy);
c. Wind resistance capacity of equipment: Level 10 can work, level 12 can not be damaged;
d. Equipment three-proof requirements: have the ability to prevent rain, water, mist, salt spray corrosion, and sand and dust;
e. Rain-resistant conditions: Rainfall ≤30mm/hr, it should work normally
f. Seismic requirements: resist 8 magnitude earthquake without damage;
g. Other environmental requirements: Waterproof, anti-acid and alkali, and anti-corrosion capabilities.
Share your thoughts
Showing

6

of

0

reviews
Consult an antenna expert now to

purchase

or

customize

your antenna.
Contact Us Now