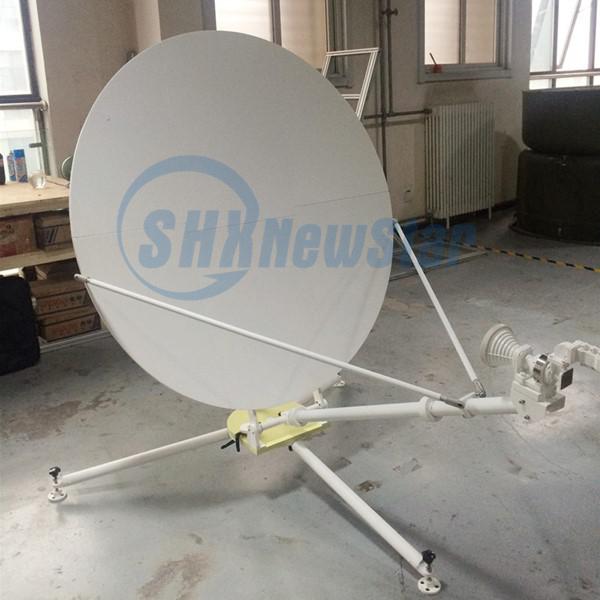 1.2m Manual Receiving And Transmitting Flyaway Antenna
Factory Price, OEM, ODM
Antenna aperture: 1.2m

Feed type: Offset antenna

Surface accuracy (RMS): ≤0.35 mm

Panel QTY: 6 pcs

Panel material: Carbon fiber

Azimuth travel: 360°

Elevation travel: 5° ~ 90°

Polarization travel: ±90°

Drive mode: Manual

Antenna net weight: 17kg
Description
The 1.2m antenna is suitable for ku band satellite communication,and is widely used in defense security, government emergency communications departments, telecommunications operators, news media, public security, border defense, armed police, military, scientific expeditions and other fields.

1.2m manual flyaway antenna characteristics:
✔ Meets or exceeds CCIR 580 and INTELSAT requirements;
✔ Meets INTELSAT, ASIASAT, CHINASAT network access requirement;
✔ Offset designed;
✔ High gain, low sidelobe, High G/T rate;
✔ Hot-dip zinc processed Antenna mount, with strong corrosion resistant ability;
✔ 2-port feed;
✔ Reasonable structure and easy operation.
1.2m manual flyaway antenna standard configuration:
Main reflector, feed, feed supporting rods, pedestal, supporting legs, solid wretch, and standard component.
1.2m manual flyaway antenna optional parts:
BUC, LNB, Modem, spectrum analyzer,installation tools, cable and connector.
Environmental specification
Share your thoughts
Showing

6

of

0

reviews
Consult an antenna expert now to

purchase

or

customize

your antenna.
Contact Us Now