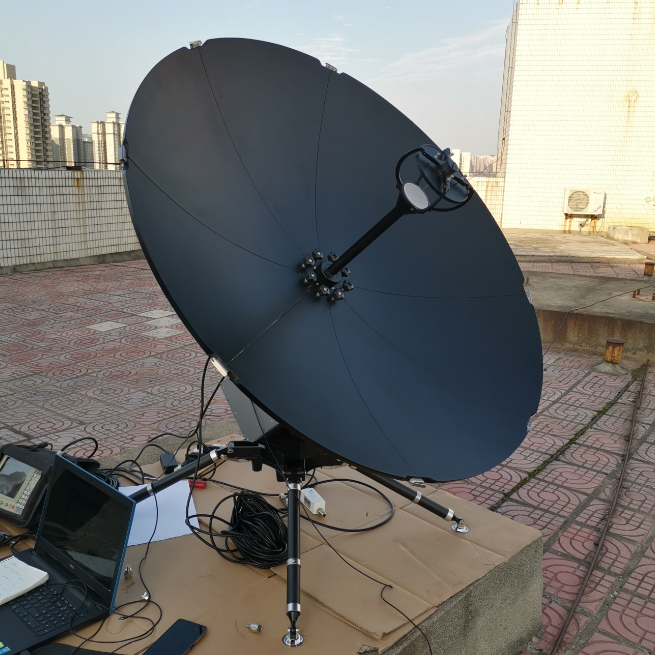 1.2m Center-feed Automatic Flyaway Antenna
Description
The 1.2m ku band automatic flyaway antenna system is with super portable, automatic working, strong environment adaptability features etc. It aims at the large capacity communication and the users that has strict request for the antenna portability.
The system is equipped with the equivalent diameter 1.2m high performance carbon fiber parabolic ring focus antenna and new media feed system, the medium feed adopts integration structure design, it can configure 40W BUC, which can meet the average user medium capacity communication needs.
The whole system consists of 3 parts: 1.2m reflector system, feed system and mount system, easy assemble and disassemble without any tools.
RF characteristic (Ku band )

Name

Receive

Transmit

Operating Freq.

10.7~12.75 GHz

13.75~14.50 GHz

Gain

41.6+20log(f/12.5)dBi

42.8+20log(f/14.25)dBi

The first sidelobe

≤-14dB

≤-14dB

Sidelobe envelope

29-25*logθ dBi 1°≤θ≤20°

-3.5 dBi 20°<θ≤26.3°

Pol isolation

On axis≥35dB

off axis 1db≥30db

Port isolation

≥85dB(with Tx rejection filter)

VSWR

1.25:1

1.25:1

Feed port

WR-75

Polarization mode

Linear polarization

G/T value

≥21.7db/k(sunny day, 20°elevation, freq 12.5GHz)

Mechanical characteristic

Azimuth range

360°continuously adjustable

Elevation range

5°~+90°continuously adjustable

Polarization range

±90°continuously adjustable

Carrying dimension

Host package: 625×500×297mm

Accessories package: 700×500×210mm

Antenna weight

≤21Kg(without BUC and portable package box)

Power requirements

Antenna Power supply

90~260VAC、47~63Hz, or 127~370V DC

BUC power supply

Antenna interior power supply

Power consumption

≤70W (Peak), Not include BUC

External interface

Host Power supply

3-core waterproof aviation plug×1

Internet control

7-core waterproof aviation plug×1

BUC switch

Self-lock ring type with lamp, ring type lamp indicate BUC charging state

Power switch

Self-lock ring type with lamp, ring type lamp indicate 220VAC input state

Transit and receive

N female ×2

One-key function

Self-centering with lamp, center lamp indicate working state

Environmental conditions

Operating wind speed

Steady wind≤50km/h(need exterior weight);Gust≤65km/h(need strengthen exterior weight)

Operating temperature

-25℃~+65℃, standarad: GJB 150.3A-2009, GJB 150.4A-2009

Storage temperature

-40℃~+85℃

Altitude

≤5000m

Protection grade

IP66(standard: GB4208-2008)

Wading capability

≥18cm

Vibration test

Standard: GJB 150.16A-2009

Vertical axis direction: total root mean square value 1.04G

Horizontal size axis direction: total root mean square value 0.20G

Longitudinal axis direction: total root mean square value 0.74G

Shork test

Standard: GJB367A-2001

Acceleration speed: 200m/s2 Pulse width: 11ms

Frequency: 3 times / forward and reverse directions

Waveform: half sine wave

Relative humidity

0%~100%

Electromagnetic compatibility

Meet GJB 151-1997 and GJB 152A-1997 requirements

Alternating hot and humid

Meet GJB 150.9A-2009 requirements

Salt and fog

Meet GJB 150.11A-2009 requirements

Rain

Meet GJB 150.8A-2009 requirements
Share your thoughts
Showing

6

of

0

reviews
Consult an antenna expert now to

purchase

or

customize

your antenna.
Contact Us Now