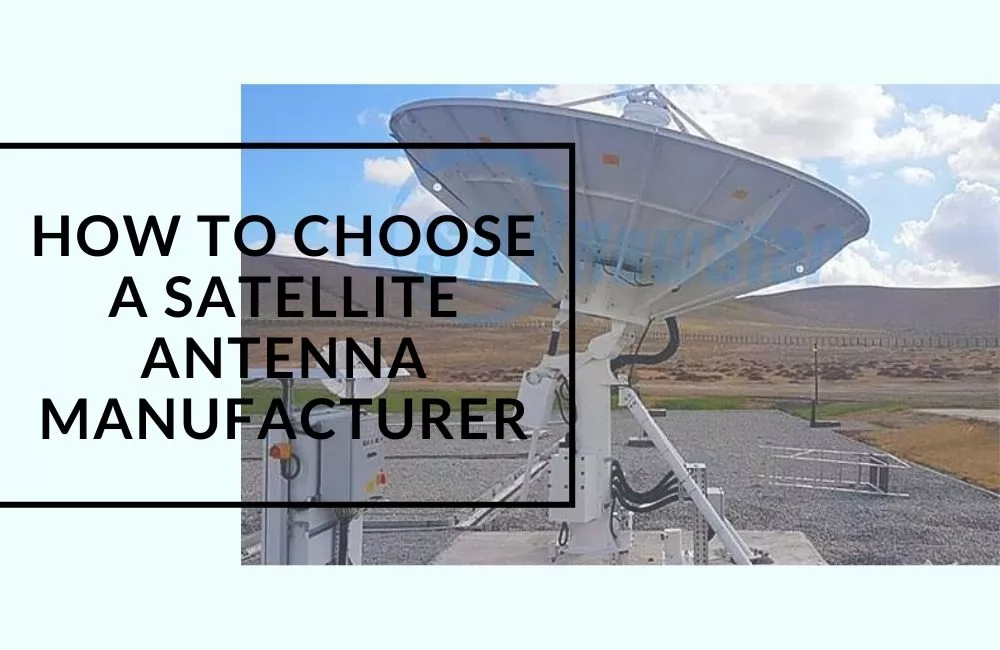 Many people contact satellite antenna manufacturers to buy satellite antennas, but choosing the right satellite antenna requires a certain amount of basic knowledge. To choose the right satellite antenna, you need to determine what satellite antenna to choose, and then determine the satellite antenna manufacturer. Today we introduce how to choose the right satellite antenna manufacturer from the aspect of choosing satellite antenna manufacturer and products
How to choose satellite antenna
Generally speaking the larger the diameter of the dish satellite antenna, the better the reception effect. In principle, this is also true, but it is not only the size that determines the reception quality. In addition, when choosing the size, you must also consider where you want to install the satellite dish and how many receivers you want to provide for it. So talk to the satellite dish manufacturer before you buy and you should consider the following factors. Now that you know some of the best satellite dishes in your area, it is important to understand the features to look for when making your final purchase decision.
Your location

Before purchasing a satellite dish, you need to know what channels are available in your area. There are multiple ways to find this out. The most effective and easiest way is to use an online tool.

Using one of these tools, you simply enter your address and the tool will tell you the various channels that your satellite dish can receive.

For example, it is important that your satellite dish is not blocked by any object. Try to place it in an open area.

The satellite you want to watch

In addition to being aware of your location, you should choose your dish based on the satellites you want to watch. Some dishes will pick up certain satellites, while others will not.

This means you should consider what TV shows you want to watch and which satellites allow you to do so. Make sure your dish can pick up the satellites you need to watch the programs you want.

Compatibility with receivers

Not all satellite dishes are compatible with different receivers. The best satellite dishes are usually compatible with H25, HR34, HR44 and higher receivers. Higher-end models are also compatible with the C31 and C41 receivers.

That said, each model is different, so it's important to check with the manufacturer before making a final purchase. In larger home installations, you may find that multiple receivers can be installed.

While the most common number of receiver connections in larger installations is four, in some cases more than 30 can be installed. Single installations are also common, especially when you connect a satellite dish to the RV.

HD or SD

The type of satellite antenna you choose also depends on whether you want to watch HD or SD channels. The quality of the antenna will determine what type of TV you can watch in your home or RV.

The receiver that is compatible with your satellite dish will also have an impact on whether you can watch HDTV.

Installation

Different satellite dishes are installed in different ways. In addition, the location where you install your dish makes a big difference. For example, you may install a different dish in your home than you would in your RV.

When choosing the best satellite dish, you must consider how it will be mounted as well as the materials and tools needed to get the job done. Consider the type of receiver you need, as different models require different cables.

For example, if you want to install a standard single set-top box, you will need a cable. On the other hand, if you want to record while watching your favorite shows, you will need two.

In addition, some dishes are easier to assemble than others. Make sure you always follow the instruction manual when assembling your dish and don't try to cut corners or it won't work as expected.

We recommend that you choose a model that comes with a small tool kit and the correct mounting base. Some models come with a tripod that will allow you to easily install the satellite dish while on vacation with RV.

Not only that, some manufacturers also offer satellite dishes with coaxial cables, compasses and bubble levels.

Portability

Consider when and where you want to use your dish. If you want to install a new satellite dish for your home, portability is less important because once it's installed, you probably won't be moving it or tampering with it very often.

That said, if you're buying a new satellite dish for your RV, you need it to be lightweight, easy to move and easy to install. Some come with tripods to make them easier to move from one location to another.

Other models come with a special carrying case that allows you to store all your tools for easy installation.

Weather conditions

What are "good conditions"? The weather can have a significant impact on satellite reception. With smaller satellite dishes, signals are more likely to be interrupted in rain, hail or snow. If you want to ensure good reception even in bad weather, you should choose a satellite dish with a diameter of at least 60 cm.

Number of Recipients

The more subscribers supplied, the larger the diameter of the satellite dish should be. If there are more than four satellite receivers, the diameter should be at least 80 cm.
Choosing the best satellite dish can be challenging because they are very complex technologies that require a certain level of knowledge to get up and running.
While all of the products mentioned above are high quality satellite dishes that can be installed in your home or RV, we recommend that you make your final choice based on your engineering capabilities, budget, and of course, the channels you want to watch.
Choose the right satellite dish manufacturer
To choose the right satellite antenna and tubing, you need to pay attention to the following things and ask carefully before buying in bulk.
Factory Technical Support

How a company handles customer concerns is an important indicator of whether you should deal with them and provide them with business. Look for a company that offers support and aftercare; consider choosing a company that offers not only satellite dishes and accessories, but also maintenance services and support. To

After finding the right satellite dish manufacturer, it is important to select the right satellite dish and accessories for your application. When a satellite dish bursts or breaks, it is important to repair or replace it as soon as possible to ensure your machine is back up and running immediately.

Make sure the manufacturer offers a wide range of products

It's important to choose a supplier that offers a wide range of products. When your satellite dish needs to be replaced, it is important that your supplier offers a range of satellite dishes and satellite antennas to ensure that you fit your machine perfectly. There are many different satellite dishes and sizes to choose from, so choosing a wide range of suppliers is key. If the supplier stocks a wide range of products, you are more likely to find the product you need. Go to

It is also important to check that the product is genuine. Many suppliers offer counterfeit replacement parts that can affect your system and mess up your machine. Take the time to verify that the product offered is genuine before you buy.

Price

With so many satellite dish manufacturers out there, choosing the right company can be a bit overwhelming. The prices of satellite dishes and accessories can vary widely, but it's not always wise to choose the cheapest option. When choosing satellite dishes and accessories, make sure that price is not the only factor you consider. In fact, buying cheap satellite dishes and accessories usually means that it will need to be replaced soon. In many cases, it's worth spending a little more or investing in a quality product to ensure that the satellite dish lasts as long as possible and is of the highest quality.
Choosing a Chinese satellite dish manufacturer
Nowadays, we often recommend Chinese satellite antenna manufacturers. We listed several reasons.
Reduce manufacturing costs

China is known as the world's processing plant and the cost of manufacturing in China is very low. Overhead, training and benefit costs for Chinese manufacturers. It is the lowest in the world. It is the first choice for global brand companies

Strong production capacity

Chinese factories produce goods for the global economy. Their manufacturing capacity is far greater than the people of the world can imagine. While workers in Europe and the United States work up to 8 hours a day, the average Chinese worker works 12 hours a day. You can be assured that the goods you need will be produced in the shortest possible time.

Strict quality assurance

Products made by Chinese manufacturers are arguably better than those made by manufacturers in other countries. This will be recognized by consumers all over the world.
Excellent list of satellite antenna manufacturers
CPI Satcom &Antenna Technologies Division

C-COM

Global Skyware

Shaanxi Newstar
More can be read in this article: List of Top Satellite Antenna Manufacturer
Conclusion
After you know how to choose satellite antenna and satellite antenna manufacturer, you can google or B2B platform to find the right business for you. We recommend you to do a side-by-side comparison to get the best product for you.
Of course, if you have more doubts, you can contact us directly, Newstar is a professional satellite antenna manufacturer, we can give you the most professional answer and the most perfect solution.
Welcome to visit our satellite antenna website and view our products.